Thai Food: Choo Chee Pla Main Ingredient

1. Heat Choo Chee sauce until boiled in a pan. Add fish fillets and bring to boil.
2. Turn the fish over. Wait until the fish is cooked and looks soaked.
3. Serve on a plate and sprinkle with shredded red chilies and kaffir lime leaves.
Thai Food: Choo Chee Pla Sauce Ingredient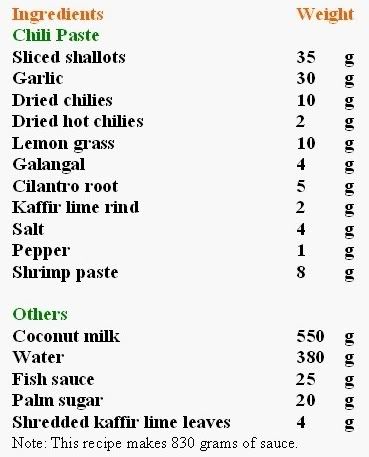 How to cook
1. Pound the chili paste ingredients finely.
2. Stir-fry the chili paste with some of the coconut milk until fragrant. Gradually add 2/3 of coconut milk.
3. Add fish sauce and palm sugar, allow to melt.
4. Add the rest of the coconut milk and water. Bring to the boil and then sprinkle the shredded kaffir lime leaves. Remove from the heat.