Today we shall learn about Phad Kee Mao, Phad Kee Mao recipe, how to cook it, Phad Kee Mao nutrition facts and how many calories it provide.


Phad Kee Mao Recipe
(Spicy Drunken Noodles)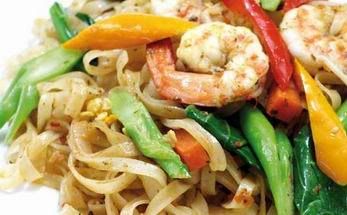 1. Cook the Chinese kale and carrot in boiling water. Drain and set aside.
2. Heat sauce in a pan. Bring to the boil and then add peeled prawns. When the meat is cooked, add the noodles.
3. Slowly pour the water into the frying pan to soften the noodles.
4. Add Chinese broccoli, carrots and yellow peppers. Stir-fry until smooth and then it is ready to serve.
Phad Kee Mao Recipe Sauce Ingredient
How to Cook


1.

Roughly pound or briefly blend the chili paste ingredients.
2.

Stir-fry the ingredients with oil until fragrant.
3.

Add sugar, fish sauce and soya sauce.
4.

Pour the water and bring to boil. Remove from the heat.


Nutrition Facts
per 1 serving
Calories(Kcal.)

__

Protein(g)
__
Fat(g)

__

Carbohydrate(g)
__
Fiber(g)

__
Calcium(mg)
__
Iron(mg)
____

286

________

4.4

______

19.16

______

28.03

_______

0.65

______

64.65

_______

0.35

Other: Vitamin B1 0.12 mg, Vitamin B2 0.14 mg