Thai Food: Mee Ka Ti Main Ingredient

How to Cook
1. Pour coconut milk into a frying pan. When boiled, put the rice vermicelli and stir-fry it for a while.
2. Pour in half of Mee Ka Ti sauce and stir-fry until the water has reduced away.
3. Sprinkle bean sprouts and Chinese chives. Stir-fry for a while and then remove from the heat.
4. Top Mee Ka Ti with the rest of sauce.
5. Sprinkle with sliced omelet and sliced chili spur pepper (option).
6. Serve with vegetables such as banana blossom, Chinese chives and bean sprouts etc.
Thai Food: Mee Ka Ti Sauce Ingredient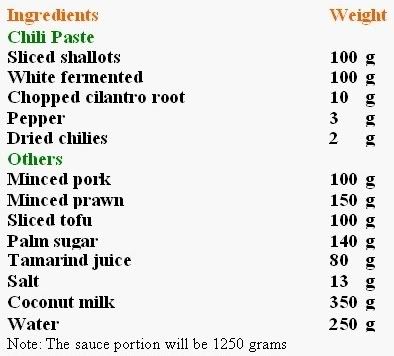 How to Cook
1. Blend the mixture of chili paste ingredients and some coconut cream until smooth.
2. Stir-fry the paste at a low heat. Then add prawn, pork and tofu. Stir-fry until the ingredients are cooked.
3. Add sugar, salt and tamarind juice.
4. Pour water, and the rest of the coconut milk. Simmer the sauce for a while and then remove from the heat.