Phad Kra-prao Moo
(Stir-fried Pork with Kra-prao Leaves)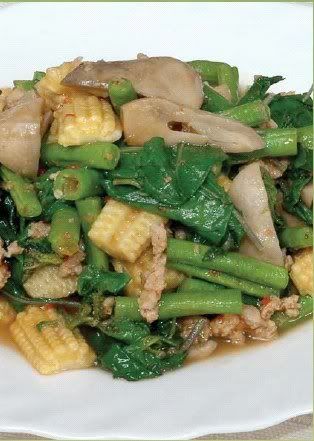 Thai Food: Phad Kra-prao Moo Ingredient
How to cook
1. Pound garlic with red and green hot chilli until fine.
2. Heat wok, add oil, fry garlic and chilli mixture until fragrant, add pork, fry until done, seasoning With fish sauce, light soy sauce and sugar.
3. Add vegetables, fry thoroughly, add 2 tbsp water, stir together, turn off heat, add kra-prao, fry together, dip onto plate and sprinkle with sliced red hot chili.
Notice:
1. Soak vegetables before cooking.
2. Water added to prevent too dry.
3. Slice 2 red hot chiili for sprinkle.
4. Cut long bean 2 cm. short length, and baby corn 3 cm.
Phad Kra-prao Moo Nutrition Information

Calories(Kcal.)

_________

Protein(g)
____________
Fat(g)

___________

Carbohydrate(g)



___

156.63

_____________

9.79

_______________

8.45

________________

10.86